sexta-feira, 12 de novembro de 2010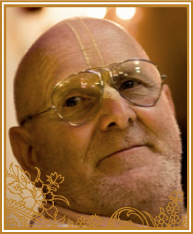 Sripad BV Bhagavat Maharaja
091-961-954-0883 (India cell )
Email: bvbhagavat@gmail.comThis e-mail address is being protected from spambots. You need JavaScript enabled to view it
In 1970, Sripad Bhakti Vedanta Bhagavat Maharaja became an initiated disciple of His Divine Grace A.C. Bhakti Vedanta Swami Prabhupada (the Founder Acharya of the International Society for Krishna Consciousness, ISKCON). Under his tutelage, he learned the science of self-realization originally described in the Vedic literature of ancient India. Bhagavat Maharaja eventually assumed numerous responsibilities related to ISKCON'S worldwide organizational efforts. He managed Temples in Mumbai, Calcutta, Vrndavana, Bhubaneswar, Nairobi, London, Long Island, and New York City. For several years, he was responsible for coordinating numerous meetings with political dignitaries and entertainment industry leaders to establish educational programs on Krishna Consciousness, particularly in India.
Bhagavat Maharaja holds degrees from the Florida Vedic College in Bhakti Yoga (the Yoga of Love and Devotion), Ayurveda (Vedic Naturopathic Healing), and Jyotish (Vedic Astrology). He is well versed in, and has lectured around the world on, the esoteric teachings of the Srimad Bhagavatam, Bhagavad-Gita, and numerous other sacred Vedic texts. In 2008, Bhagavat Maharaja accepted the formal order of Sannyasa from His Divine Grace Bhakti Vedanta Narayana Goswami Maharaja, head of the International Pure Bhakti Yoga Society, and was conferred with the title of Swami. Following the ageless traditions of the Vedas, he has accepted a vow of detachment from material life and fully dedicated himself to compassionately uplifting the bleak condition of human society. Sripad Bhagavat Maharaja is currently on a world preaching tour under the guidance of Srila Bhaktivedanta Narayana Gosvami Maharaja. Bhagavat Maharaja is an acclaimed speaker and has been praised for his unique ability to weave the complex philosophical truths of the Vedas with simple modern examples, thus creating an easily accessible and comprehensible subject matter for listeners of all backgrounds and experiences.
As an ordained Vaishnava priest, Bhagavat Maharaja educates others on the theory and practice of Bhakti Yoga and provides spiritual counseling. If you would like to invite Bhagavat Maharaja to speak to your group or organization, please contact him at:
Email: bvbhagavat@gmail.com
Cell Phone: 091-961-954-0883 India
Thank you very much. Hare Krsna.
Traveling Schedule for B.V. Bhagavat Maharaja 2010
2010
April thru June
Los Angeles
July
7/1-7 Festival Pisa
7/8 (or 9th) to 7/19 Bhudara's
7/19 to 7/31 Wales
August
8/1 to 8/10 Jagatam's and Ganga Mata's
8/10 to 8/12 Glastonbury
8/13-15 Ayurveda and Bhakti Seminar Glastonbury
8/17 -8/26 Hong Kong
September
8/27- 9/27 China
9/27 fly to Rome from China
9/28 fly to Sicily
October
9/28 to 10/6 Sicily
10/6 fly to Sardinia
10/6 to 10/13 Sardinia
10/13 fly to Rome
10/14 & 10/15 Rome Temple Programs
10/16 Priya Vrata Hari Nama and Program
10/17 Rome Temple Sunday Program
10/18 Fly to India
WHY AM I ALWAYS RACING AGAINST TIME?!
In 1977 I left Bhubaneshwara the night of Govardhan Puja to get on a train to go to Calcutta. I got off the train in Calcutta early the next morning and ran to catch a train to Delhi. I arrived in Delhi 24 hours later and got on a train to Mathura. I reached Mathura around 1 pm and tried to get to Vrindavan. I finally got in a taxi and arrived on the side of Krsna Balarama Mandir at around 2PM. I got out of the car to see Akshayananda Maharaja and Bhagaji running out of Srila Prabhupada's room. What happened? I shouted! How is Srila Prabhupada? They informed me that the Doctor just said Srila Prabhupada will leave this world in 5 hours.
Tomorrow I get on a plane in Sardinia at 9am to fly to Rome. I arrive in Rome at 10:30 someone will meet me there and bring the rest of my luggage and I will repack for India. Then I will race across the terminal to get on a plane for India at 3:30. I will arrive in Delhi the next morning at 9:30 AM. I will then get a taxi to the Delhi Math and pray that when I arrive I will have better news than the last time I RACED AGAINST TIME. I am praying that my Beloved Srila Gurudeva will be with us some more years. My Dear Srila Prabhupada! My Dear Srimati Radharani! I beg and implore you! If I have ever done anything of value in your service take it and use it to prolong the life of our beloved Srila Gurudeva for some more time. This is my prayer.
Your Worthless Servant
B.V. Bhagavat Swami

Another angle of the morning walk from the photo album cover. Sevananda on the far right, Nitai with the glasses behind him, Paramhansa Maharaja next to him, Bhagavan and Madhavananda. One of the Life members who was a regular on the morning walk.


My Dear Srila Prabhupada, 40 years ago after chanting Hare Krsna with friends at our apartment for several months I met your disciples in the streets of New York on the first Earth Day. I was completely taken in by the chanting and the Bhagavad Gita. I moved into the temple that night and since joining you I have somehow managed to follow 3 1/2 regulative principles. (I was married). 40 years ago you picked me up out of the streets of New York and brought me to your Lotus Feet. I am the street boy who got lucky. Thank You so much for your Mercy upon this fallen conditioned soul.
Your worthless and insignificant servant
B.V. Bhagavat Maharaja


This is a Morning walk with Srila Prabhupada on Juhu Beach in Bombay India. Srila Prabhupada relished his walks on Juhu Beach which he once said was the most beautiful beach in the world. In this photo is Madhavanada and Bhagavan. I am 24 years old here.

Here is another Morning walk with Srila Prabhupada in Juhu. In the background is Jagat Purush and Manasvi Das from Gujarat.

Brahamanda and I on either side of Srila Prabhupada on a morning walk in Juhu. You will see several other morning walks in India where Brahmanada and I are walking in either side of Srila Prabhupada.